Terry Howe's '75 CJ-6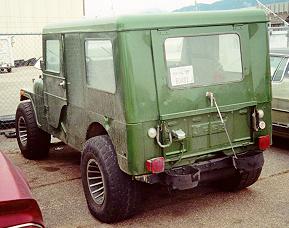 Sections

'75 CJ-6
'81 CJ-7
Trail Reports
Drive Train Pages
Jeep Tech Pages

I recently bought a '75 Jeep CJ-6 with 232(3.8L) I6, T-14 3 speed transmission, Dana 20 transfer case, Dana 44 rear, and Dana 30 front with 3.73s. That makes it totally stock except for the hard top.

The rocker panels are a bit wavey and showing some rust. The passenger rear quarter panel had the spare tire ripped off it, but other than that the body is in pretty good shape. The previous owner did a paint job of sorts, it looks good from a distance.

The wheels are real nice, but the tires are very bald 33s with no lift. I'll probably throw on a set of 32s I have to keep it on the road.

This jeep will serve as my commuter vehicle until I get my flat fender on the road. After that serious modifications are in order.
Last modified Wednesday, 01-Dec-2010 09:13:26 MST
---
[ Terry's Jeep Page | Jeep Tech Page ]

Copyright © 1998, 1999, 2000 Terry L. Howe (txh3202@worldnet.att.net)
---